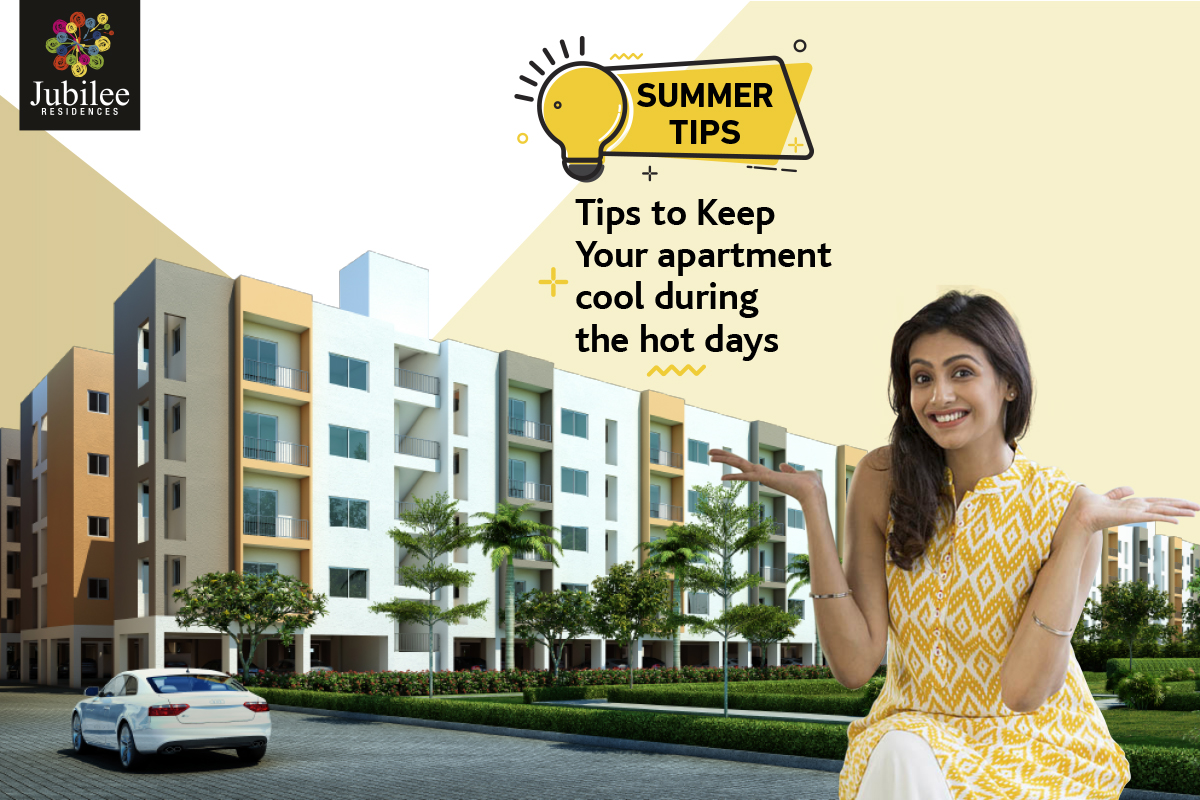 Tips to Keep Your apartment cool during the hot days:
With the onset of summer many of us would have already switched on the ACs with the power bills setting the pockets on fire. Here are a few simple ways to keep you and your house Cool naturally.
Green Ambience -
Growing potted plants at home not only creates a pleasant and positive ambience, but these green friends also reduce the temperature of the house as they take in carbon dioxide and release oxygen by their natural process. As they transpire, they release moisture and keep the air around cooler, fresher and healthier. Try growing plants such as Aloe vera, baby rubber plant, golden pothos, snake plant and similar ones on the east/west sides of the house to effectively block the sun's rays.
Cool Curtains –
One important step to keep the interiors of the house cool is to avoid dark coloured synthetic drapes, for they trap the heat. Choose light coloured cotton curtains that let the house breathe. For an enhanced cooling effect sprinkle some cool water on the curtains using small spray bottles, and as the air flows through them, they induce a natural cooling effect.
In addition to curtains, choose cotton fabric for your bed spread, pillows and blankets. The fabric is breathable and allows free circulation of air, helping you deal with the hot weather better.
Cool the Roof –
Cooling the roof of the house is especially necessary for residents of top floor of an apartment complex. One of the ways to accomplish this is to grow a terrace garden, this acts as a natural barrier of heat. However, waterproofing the roof before that is necessary to prevent seepage issues latter. One can also go for thermal insulation by using reflective paint like Dr Fixit or similar ones.
Cross Ventilation -
Enabling cross ventilation at home creates a very soothing atmosphere at home. Keep windows at opposite ends of the house open, especially in the morning during 5:00 am -8:00 am and in the later evening like 8:00 PM – 10:00 PM. Keeping the windows open and allowing good circulation of air at home is the simplest and easiest way to beat the heat.
Declutter -
Though may sound a little odd, but the fact remains that a cluttered room is not only an unpleasant sight but inhibits the natural circulation of air at home. Adapt a minimalistic approach and have only things that are necessary, discard unused stuff which occupy space and give a cramped feel to the house. Do a quick clean-up, open up the windows, discard thick woolly rugs/carpets and replace them with light, vibrant jute/cotton ones and experience a better airy room.
Switch to LEDs/CFLs -
Incandescent bulbs produce light through heat, about 90% of the energy consumed goes to generate heat. Apart from consuming more power, they increase electricity bills and also generate a lot of heat. So remember to switch off your incandescent bulbs when not in use and It is advisable to replace them with LEDs or CFLs as they generate less heat and also save a lot of power.